What is the difference between maids and janitorial services?
/
Saturday, 24 October 2020
/
Published in
Airbnb Cleaning
,
Area Rug Cleaning
,
carpet cleaning
,
Carpet Cleaning Services
,
Cleaning services
,
Commercial Cleaning Services
,
Floor Waxing and Stripping Services
,
Janitorial Services
,
Office Cleaning Montreal
,
Residential Cleaning Services
,
Spring Cleaning Montreal
,
Spring Cleaning Services
,
Window Cleaning Services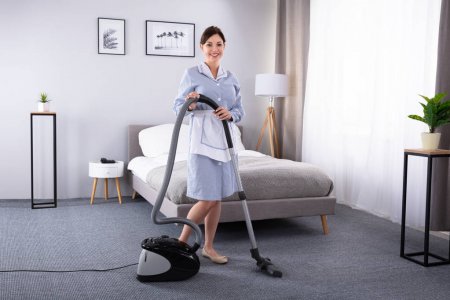 Well, there is a misconception between the janitorial and maid services. Like before writing this, I was searching on the web so during the time of searching and reading, I realized that people are quite confused that is there any difference between the maid and the janitorial services or both are the same.
So to consider this factor what I felt that it is important to be clear about the basic regular cleaning services so than during the time of hiring any services you guys will not get confused and hire the services for your place cleaning confidently without any asking.
So let's get the ball roll, and reveal the hidden difference between the maids and janitorial services.
Lets first start with the janitorial services
The janitorial services are those services that are come up along with effective supplies and cleaning services equipment. Like in this, the best benefit which you guys can get is that these cleaning services are free from any kind of harsh and harmful chemicals, means those, who are quite worried and in search of the services that use eco and nature-friendly cleaning detergents can consider the janitorial services. The regular office cleaning include vacuuming, dusting, and mopping, carpet cleaning, floor scrubbers or steam cleaners…
On the other hand, these cleaning services are best for those who are allergy and any other health-related issues patients and have their kids, babies, and pets at home.
Now let's come back to the maid services
Maid services or Housekeeping services are highly demandable and consider for your indoor cleaning purpose. Like it's a service which you can hire when you think or feel that you are already packed with so many family and general commitments and engage in other working credentials so during that time for your place cleaning and effective spotless furnish credentials, you guys can consider or hire the maid cleaning services. Generally cleaning services include vacuuming, dusting, sweeping, mopping, etc. Rooms, bathrooms, kitchen, bedrooms, living and dining areas.
So it doesn't matter if you are in search of Commercial cleaning or janitorial cleaning services or the maid cleaning services, in both situations, I recommend you to consider the https://www.themontrealcleaners.ca/en/
This cleaning service ensures to give you friendly and honest cleaning services in an affordable range.
To know more about this cleaning service, feel free to visit the site
Either it's for a deep cleaning, moving in cleaning or moving out cleaning or on a regular basis, daily, weekly, biweekly or monthly basis or housemaids or common area cleaning for apartment buildings, regular shared places cleaning, end of tenancy moving in and moving out cleaning services, after construction cleaning services, commercial offices, Floor Stripping and Waxing, Hotel, Motel & Airbnb Cleaning, medical/dental facilities, restaurants, cpe / daycares cleaning, Healthcare, Dental and Medical Office Cleaning, fitness / gym cleaning, Apartment & Condo Building Cleaning  deep spring clean and spring cleaning services you are at the right place. Our house are highly trained to deliver excellent residential cleaning services throughout The Great Montreal.
Commercial, Office and Residential Cleaning Services
Commercial, Office and Residential Cleaning Services
What is the difference between maids and janitorial services?
Provider Name
The Montreal Cleaners
,
1200 McGill College Avenue, Suite 1100
,
Montreal
,
Quebec
-
H3B 4G7
,
Telephone No.1844 294 2670
Montreal
Montreal, Longueuil, Laval, Quebec, Québec, Lévis, Gatineau, Blainville, Brossard, Boucherville, St-Hubert, Pointe-aux-Trembles, Rivière des Prairies, Plateau Mont-Royal, Outremont, Westmount, Châteauguay, Griffintown, Bonaventure, Auteuil, Rive Nord, Rive Sud, ​Chomedey, Duvernay, Fabreville, Îles-Laval, Laval-des-Rapides, ​Laval-sur-le-Lac, Laval-Ouest, Pont-Viau, Sainte-Rose, Sainte-Dorothée, Saint-François, Saint-Vincent-de-Paul, Vimont, Rosemont, Ahuntsic, Cartierville, Ville St-Laurent, Anjou, Montréal-Nord, Rivière-des-Prairies, Pointe-aux-Trembles, St-Léonard, Île-des-Sœurs, Beaconsfield, Île Perrot, Senneville, Ste-Anne-de-Bellevue, Kirkland, Île Bizard, Montréal-Est, Dollard-Des-Ormeaux, Dorval, Pointe-Claire, Lachine, Ville Lasalle, Centre-ville, Vieux-Montréal, Côte St-Luc, Hampstead, Westmount, Outremont, Montréal-Ouest,Mont-Royal , Côte-des-Neiges, Notre-Dame-de-Grâce, Verdun, Boucherville, Varennes,Longueuil,St-Hubert,St-Lambert , Brossard, La Prairie, Ste-Julie, St-Bruno, Saint Bruno de Montarville, Beloeil, St-Hilaire, St-Basile-le-Grand, Chambly, La Cité-Limoilou, Les Rivières, Sainte-Foy, Sillery, Cap-Rouge, Charlesbourg, Beauport, La Haute Saint-Charles
DescriptionBest Residential and Commercial Cleaning Services Company in Montreal The Montreal Cleaners is the best residential and commercial cleaning company in Montreal.
What is the difference between maids and janitorial services? Housekeeping Services and maids across Montreal and Quebec. Free Quote. We are the best Commercial Cleaning Services Montreal Housemaids Services & Domestic Cleaning Services, Residential House & Apartment Cleaning Services Montreal, Apartment Cleaning Services Montreal, Regular Residential House Cleaning Services Gatineau Ottawa, House Cleaning & Maid Services in Montreal, Laval, Longueuil. High Quality Maid Cleaning. Call us for a free quote.