Best Commercial Cleaning & Janitorial Cleaning Company
We will work with you to establish a Commercial Cleaning Services and sanitization program that works best for you and your environment. Trust us for your cleaning needs. Feel free to contact us for a free quote.
Commercial Office Cleaning & Janitorial Services in Montreal
Your office will need to be looking especially inviting. Potential clients who visit a clean office leave with a favorable impression of the place. A clean and tidy office increases the employees productivity and help them concentrate on their work. The Montreal Cleaners maids will clean your office in a sustainable way in Montreal, Laval, Longueuil, North Shore, South Shore, Gatineau, Ottawa, Quebec, Lévis and suburb areas.
By using green cleaning solutions, your employees do not have to worry about inhaling harmful chemicals or touching surfaces.
As office cleaning requirements vary from client to client, we provide bespoke commercial cleaning solutions, tailored to the needs of each individual business.
Our Montreal maids cleaners and cleaning lady service the GMA area, Great Montreal Area and specialize in out-of-hours office cleaning. We also pride ourselves on the vetting and training of our cleaners and we appreciate how important this is to our customers.
Clean and sanitize restroom fixtures
Empty all trash receptacles
Trash collection and recycling
Vacuum all carpeting and spot clean as needed
Dust and polish furniture as needed
Dust window blinds and horizontal surfaces on a regular cleaning basis
Clean Kitchen/Break Room fixtures and appliances
Sweep and Mop any tile or hard flooring
Toilet cleaning and disinfecting
Restroom cleaning and disinfecting
Kitchen and Break Room cleaning and disinfecting
Refilling restroom supplies
Spot Cleaning
Rubbish collection
Cleaning reception area and foyers
Cleaning of light fixtures and skirting boards
Vacuuming
Entranceways and corridors cleaning
Conference room cleaning
Common area cleaning
Elevators and stairways cleaning
Dusting of work spaces, surface areas and office equipment
Clean entrance glass and any interior glass.
Dust air vents and returns along with ceiling fans on a regular basis.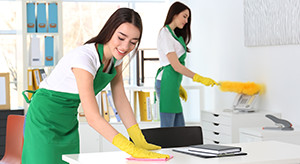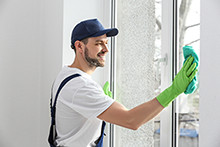 For high quality service, we suggest that we come to your house or office to inspect and evaluate the area that requires cleaning. This will be done at absolutely No Cost.
Our Cleaning Services in Montreal
Janitorial services in Montreal

Furniture cleaning in Montreal

Pressure washing in Montreal

Ventilation & duct cleaning in Montreal

Bulb & ballast replacement in Montreal

Office Cleaning in Montreal
Our cleaning services extend to all kinds of Montreal businesses such as:
Commercial Cleaning Services

Office Cleaning Services

Professional Offices

Medical & Dental Clinics

Office Buildings

Daycare & School

Day Care Centers

Clinics

Restaurants

Churches/Places of Worship

Medical Facilities

Retail Stores
Bathrooms can be one of the most unattended areas in your house. This means that they are often supervised. And be hard for anyone to maintain the cleanliness in the bathroom. It does not matter whether you're wiping it out. Or going for a deep clean each month. Deep cleaning your bathrooms will require you to utilize them all day. However, it does not have to be that way.
You may find a multitude of different cleaning hacks that can be used for everyday cleaning items. Some examples of household items that can be used as a good alternative to cleaningitems are cooking spray, vinegar, and nail polish. So keep these items on hand next time you go on a cleaning spree!
Clean Your Toilet with Vodka:
Obviously, no one wants to use the expensive staff or the luxurious vodka item for cleaning purposes. We're talking about the cheap bottle of vodka that has been occupying your car card for such a long time that you have forgotten about it.
It will help you make your toilet shine brightest. Pour half a cup of vodka into your toilet at least 2 times a month to prevent any rinse from forming. It also serves as a good disinfectant for your toilet seat and covers.
Disinfect Your Toilet Brush Holder:
When you disinfect your toilet brush regularly, it works as the hag. Keep your bullet brush from in and returns. Make sure that every time you use it, you for a small amount of disinfectant on your toilet brush. Stops you from keeping your bathroom toilet brushed, clean and smooth, and working.
Clean up Your Bathroom Fan with a Can of Air:
If you want to clean the exhaust fan of your bathroom, you can go for a step ladder. Spray directly the can of fear that it costs $11, which is a cheap solution. Use this spray to help you remove any buildup dust. Make sure you're using a microfiber cloth that keeps you from wiping any dust particles.
Clean Windows, Corners, and Mirrors with Lemon and Club Soda:
Fruits tend to have natural cleaning and clear properties, especially talk about received letters in them and oranges, etc. A simple bathroom hat that can help you create a fresh-smelling spray is to use lemon. One teaspoon of lemon juice added to a spray bottle of club soda with distilled water can help you get a homemade natural glass cleaner.
Shine Faucets with Baby Oil:
How can you walk into a washroom designed so well but have rusty old chrome faucets and sink handles? Let's talk about how you can prevent these rusty handles with the help of baby oil. Use a few drops of baby oil along with a microfiber cloth to clean off all the rusty old faucets. You will be surprised by how efficiently the shine returns!
Rid a Shower of Soap Scum with Cooking Spray:
If you think your King's spray is to be kept in the kitchen, you need to reconsider your decisions. A small amount of cooking spray on your shower door can help you remove the soap scum that has built up over time. However, keep in mind to scrub your shower after the cleaning to prevent slips and slides.
Baking soda may be used to unclog the shower drain in addition to eliminating stains from your tub and cleaning the grout area between your tiles. Pour the coarse kitchen staple and hot water down the drain to help break up any stuck-on dirt, hair, or another crud.
However, keep in mind that these hacks can only help you to achieve short-term results. The best way to manage your bathroom cleaning is to maintain it through a special service provider. The Montreal cleaners services provide you with packages that are best suited for cleaning houses.
Check out our cleaning packages and services at https://www.themontrealcleaners.ca/. They provide a definite range of cleaning to businesses in Montreal, Laval, North Shore, Longueuil, North Shore, Québec, Lévis, Trois-Rivières, Gatineau, Ottawa, Ahuntsic, Anjou, Baie-d'Urfé, Beaconsfield, Côte-des-Neiges, Côte-Saint-Luc, Downtown Montreal, Dorval, Hampstead, Hochelaga-Maisonneuve, Kirkland, Lachine, LaSalle, Plateau-Mont-Royal, Sud-Ouest, Mercier, Mile End, Montréal-Est, Montreal North, Notre-Dame-de-Grâce (NDG), Outremont, Pierrefonds-Roxboro, Pointe-Claire, Pointe-Saint-Charles, Rosemont-La Petite-Patrie, Sainte-Anne-de-Bellevue, Saint-Laurent, Saint-Léonard, Saint-Michel, Senneville, Verdun, Ville-Émard, Villeray, West Island, Westmount, Auteuil, Chomedey, Duvernay, Fabreville, Îles-Laval, Laval-des-Rapides, Laval-Ouest, Pont-Viau, Sainte-Dorothée, Sainte-Rose, Saint-François, Saint-Vincent-de-Paul, Saint-Hubert, Greenfield Park, LeMoyne, Saint-Lambert, and surrounding areas.
Either it's for a deep cleaning, moving in cleaning or moving out cleaning or on a regular basis, daily, weekly, biweekly or monthly basis or housemaids or common area cleaning for apartment buildings, regular shared places cleaning, end of tenancy moving in and moving out cleaning services, after construction cleaning services, commercial offices, Floor Stripping and Waxing, Hotel, Motel & Airbnb Cleaning, medical/dental facilities, restaurants, cpe / daycares cleaning, Healthcare, Dental and Medical Office Cleaning, fitness / gym cleaning, Apartment & Condo Building Cleaning  deep spring clean and spring cleaning services you are at the right place. Our house are highly trained to deliver excellent residential cleaning services throughout The Great Montreal.
Areas Covered
Pointe-aux-Trembles, Rivière des Prairies, Montréal-Nord, Anjou, St-Léonard, Montréal-Est Rosemont, Petite Patrie, St-Michel, Ahuntsic, Villeray, Plateau Mont-Royal, Outremont, Westmount, Ville Mont-Royal, Notre-Dame de Grace, Cartierville, Cote-St-Luc, Hampstead, St-Laurent, Verdun, Lasalle, Lachine, Roxboro, Dollard-des-Ormeaux, Pointe Claire, Dorval, lie Bizzard, Laval, St-Francois, Duvernay, Vimont, Auteuil, Pont-Viau, Laval-des Rapides, Chomedey, Ste-Rose, Fabreville, Ste-Dorothée, Laval-Ouest, Terrebonne, Mascouche, La Plaine, 136s-Des Filions, Lorraine, Rosemère, Boisbhand, Ste-Thérèse, Blainville, Mirabel, St-Janvier, St-Jérôme, St-Antoine, Bellefeuille, Lafontaine, St-Eustache, Deux-Montagnes, Ste Marthe sur le lac.
Boucherville, Longueuil, Ste-Julie, St-Hubert, Beloeil, Charnbly, Brossard, St-Lambert, Greenfield Park, LaPrairie