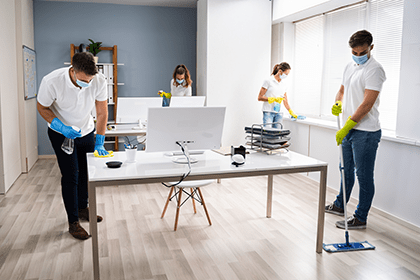 Americans are inclined towards investing most of their living at work. How can you guarantee that your employee feels safe while entering your office? One of the key aspects of keeping your employee retained is to make sure that they feel safe walking in the office. But how can you ensure that? A quality lifestyle is highly valued by all Americans.
A regular cleaning practice is not enough to provide your employee with a sense of satisfaction. It is highly significant to ensure that you get rid of the deeper dirt, dust, and trash present in the office. How is that possible? Efficient cleaning experts that prioritize using well-maintained and high-quality equipment
Increased Employee Productivity:
When the workplace is fresh, spotless, and devoid of accumulated dust and filth, your employees are more content. The air has a pleasant scent and is better to breathe. While many companies realize the need for continual staff education and appreciate the value of a positive workplace culture, the most crucial element in productivity is clean, pure air. So, it needs to be considered.
A Safer, Healthier Work Environment:
Employee health is one of the pillars for any organization to maintain. Nowadays, it serves as an asset to provide for the employee. It helps any organization to become more environmentally friendly when it comes to running operations.
If you are planning to go green and provide a healthy environment, then longer resistance for employees towards air and the environment is essential. Make sure to implement programs that help in cleaning with the help of professional service providers.
A Positive, Professional Appearance:
Good corporate "housekeeping" entails a number of essential procedures. Some of the more obvious ones include minimizing the amount of debris that gathers in stairways, hallways, and other walking areas. You must have to keep trash cans clean rather than merely changing out the bags. Also, daily efficient dust and dirt cleaning is essential.
Standard vacuums, even bigger versions, are frequently used by small commercial cleaning organizations. But, do not include the HEPA filter option, which is necessary for enterprises that handle harmful materials.
Morale Booster:
When you have a cleaner environment, you're employee reacts to wet, and the morale is higher than usual; you will feel that they are more active and engaged in performing tasks. This means that essential reliability and security are present in the environment. This way, your smaller operation will be enhanced by happier employees.
Long-Term Cost Savings:
If you're trying to go easy on yourself, it is suggested to go for a basic office cleaning process for your office. This way, you are providing your employees with perfect health and security as well as a clean environment considering the top of the columns, shells, lines, etc. When the furniture in any office is well maintained and clean, the employee feels more inclined towards working longer hours.
Higher Quality Cleaning:
Find out what expert cleaning procedures are employed before hiring a business cleaning service. There are differences among commercial cleaning businesses in the caliber of the work they do. For better upkeep, cleaner air, and a fresher, pristine appearance, some can provide extra services like a thorough rug and upholstery cleaning. Windows ought to be spotless, not dirty or smeared.
Cleaning of blinds and drapes

Cleaning and restoring tile and grout

Cleaning the air ducts

Leather cleaning

Care, restoration, and repair of concrete floors
We have the know-how to get your company back on track after water, fire, or smoke damage as a consequence of an unplanned calamity.
There are some businesses that require special cleaning needs. This means that if you need one of them, you need to have service providers that are efficient in handling digital products. For such concerns, our service providers, such as The Montreal cleaners, will provide you with wide facilities.
Check out our cleaning packages and services at https://www.themontrealcleaners.ca/. They provide a definite range of cleaning to businesses in Montreal, Laval, North Shore, Longueuil, North Shore, Québec, Lévis, Trois-Rivières, Gatineau, Ottawa, Ahuntsic, Anjou, Baie-d'Urfé, Beaconsfield, Côte-des-Neiges, Côte-Saint-Luc, Downtown Montreal, Dorval, Hampstead, Hochelaga-Maisonneuve, Kirkland, Lachine, LaSalle, Plateau-Mont-Royal, Sud-Ouest, Mercier, Mile End, Montréal-Est, Montreal North, Notre-Dame-de-Grâce (NDG), Outremont, Pierrefonds-Roxboro, Pointe-Claire, Pointe-Saint-Charles, Rosemont-La Petite-Patrie, Sainte-Anne-de-Bellevue, Saint-Laurent, Saint-Léonard, Saint-Michel, Senneville, Verdun, Ville-Émard, Villeray, West Island, Westmount, Auteuil, Chomedey, Duvernay, Fabreville, Îles-Laval, Laval-des-Rapides, Laval-Ouest, Pont-Viau, Sainte-Dorothée, Sainte-Rose, Saint-François, Saint-Vincent-de-Paul, Saint-Hubert, Greenfield Park, LeMoyne, Saint-Lambert, and surrounding areas.
Either it's for a deep cleaning, moving in cleaning or moving out cleaning or on a regular basis, daily, weekly, biweekly or monthly basis or housemaids or common area cleaning for apartment buildings, regular shared places cleaning, end of tenancy moving in and moving out cleaning services, after construction cleaning services, commercial offices, Floor Stripping and Waxing, Hotel, Motel & Airbnb Cleaning, medical/dental facilities, restaurants, cpe / daycares cleaning, Healthcare, Dental and Medical Office Cleaning, fitness / gym cleaning, Apartment & Condo Building Cleaning  deep spring clean and spring cleaning services you are at the right place. Our house are highly trained to deliver excellent residential cleaning services throughout The Great Montreal.