Tuesday, 05 September 2023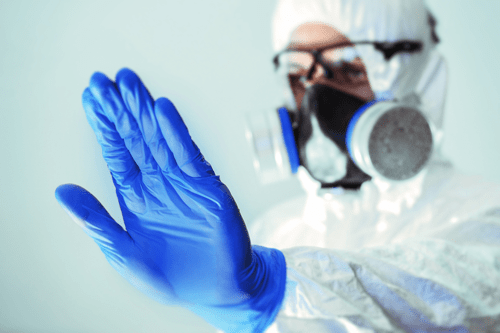 There have been multiple studies that showed that the corona virus has the tendency to stay in the air for up to three hours. However, they stick to the surfaces such as steel for up steel to 24 hours and up to three days.
Following are some ways that you can use to prevent your house from getting infected and make it as germ-free as possible.
You need to understand that the surface does not remove the removing dust particles remove it. You need to make sure that there are no bacteria or germ left on it and therefore needs that.
You need to use different kinds of products for different kinds of surfaces. This depends on the type of stain you are dealing with, whether it be contaminants, dust, debris, or necessary steps for cleaning your house in general.
You should be aware of which cleaning supplies are good against different types of germs because not all of them are COVID-19.
A complete list of disinfectants that eliminate the new corona virus is provided by the EPA. Perhaps you already have some of these useful items in your house, such as:
Disinfecting wipes, such as store-brand wipes or wipes from Clorox or Lysol

Disinfectant sprays, such as those from Purell, Clorox, or Lysol Isopropyl

Alcohol Hydrogen peroxide
While employing chemicals that effectively destroy viruses is essential, it's also critical to use the right procedures to completely disinfect surfaces. According to the EPA, killing 99.9% of germs requires letting the product rest and remain wet on surfaces or objects for 10 minutes.
The CDC provides advice on how to make a DIY bleach disinfectant spray if you don't have any cleaning supplies on hand and can't locate any in stores. If you use this product, be careful since bleach can harm or discolor delicate surfaces. Wear gloves. Open your windows.
While you don't have to thoroughly clean your home every day, you should concentrate on sanitizing the places where germs thrive. The following things need to be cleaned up every day:
Cabinet and drawer handles

Cupboard and drawer knobs/pulls

Toilets, especially the seat, and handle

Refrigerator, dishwasher, oven, and microwave handles

Remote controls and game controllers

Cell phones, tablets, and other mobile devices

Computer keyboards and mice

Door knobs/handles

Table surfaces and Staircase railings

Light switches/switch plates
Wear disposable gloves if at all feasible, and after cleaning, throw them away. Make careful to clean your reusable gloves after using them if you have some. Additionally, always wash your hands before and after sanitizing and disinfecting your house.
If you're dealing with a sick person in your house, it is essential to care about yourself and maintain precautions while cleaning and disinfecting the house areas. Whenever dealing with a sick person, make sure you enter with proper equipment in the infected area.
It is adjusted for you to use different equipment that is designed to maintain social distance between you and the person. There are multiple cleaning supplies that you can use to clean the space. If you ask the person who is using the same washroom, it is essential for you to disinfect the space after every use.
Always remember that you need to keep washing your hands in order to avoid any German contract. This helps you to lower the risk of catching COVID-19 as least as possible. The CDC recommends that you need to scrub your hands with soap and water for about 20 seconds period.
If you have a sick person in your house cleaning house, it is to hire a professional service provider from https://www.themontrealcleaners.ca/, The Montreal cleaners , to help you deal with such concerns!
Contact The Montreal cleaners today and bring up your home air quality by cleaning and disinfection. Check out their services list at https://www.themontrealcleaners.ca/ and make a decision to bring a healthy and clean lifestyle in Montreal, Laval, North Shore, Longueuil, North Shore, Québec, Lévis, Trois-Rivières, Gatineau, Ottawa, Ahuntsic, Anjou, Baie-d'Urfé, Beaconsfield, Côte-des-Neiges, Côte-Saint-Luc, Downtown Montreal, Dorval, Hampstead, Hochelaga-Maisonneuve, Kirkland, Lachine, LaSalle, Plateau-Mont-Royal, Sud-Ouest, Mercier, Mile End, Montréal-Est, Montreal North, Notre-Dame-de-Grâce (NDG), Outremont, Pierrefonds-Roxboro, Pointe-Claire, Pointe-Saint-Charles, Rosemont-La Petite-Patrie, Sainte-Anne-de-Bellevue, Saint-Laurent, Saint-Léonard, Saint-Michel, Senneville, Verdun, Ville-Émard, Villeray, West Island, Westmount, Auteuil, Chomedey, Duvernay, Fabreville, Îles-Laval, Laval-des-Rapides, Laval-Ouest, Pont-Viau, Sainte-Dorothée, Sainte-Rose, Saint-François, Saint-Vincent-de-Paul, Saint-Hubert, Greenfield Park, LeMoyne, Saint-Lambert, and surrounding areas!
Either it's for a deep cleaning, moving in cleaning or moving out cleaning or on a regular basis, daily, weekly, biweekly or monthly basis or housemaids or common area cleaning for apartment buildings, regular shared places cleaning, end of tenancy moving in and moving out cleaning services, after construction cleaning services, commercial offices, Floor Stripping and Waxing, Hotel, Motel & Airbnb Cleaning, medical/dental facilities, restaurants, cpe / daycares cleaning, Healthcare, Dental and Medical Office Cleaning, fitness / gym cleaning, Apartment & Condo Building Cleaning  deep spring clean and spring cleaning services you are at the right place. Our house are highly trained to deliver excellent residential cleaning services throughout The Great Montreal.