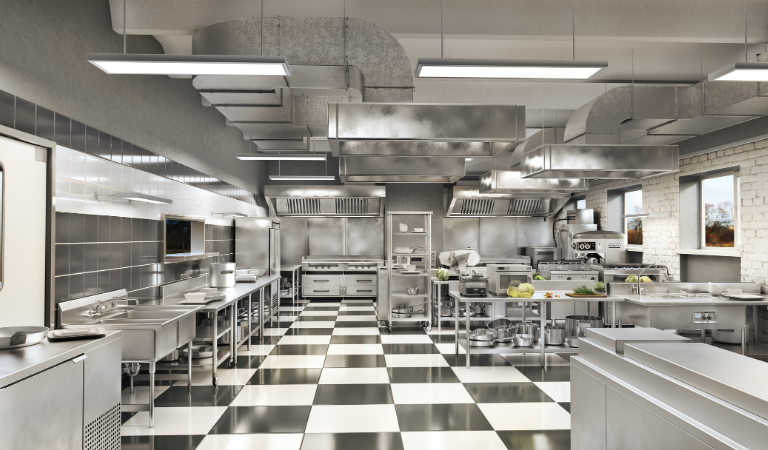 The kitchen is the heart of any restaurant, and keeping it clean is essential to keeping your business running smoothly. A professional kitchen cleaning service will deep clean your kitchen, getting rid of grease and grime that can build up over time. This will help to keep your kitchen looking its best, and it will also help to prevent health hazards in Montreal, Laval, Longueuil, Point Claire, West Island, Dollar des Ormaux DDO, Lasalle, Lachine, Dorval, Ahuntsick, Vaudreuil, Brossard, Pierrefonds, Boucherville, Blainville, Hochelaga, Champlain, St-Hubert, Pointe-aux-Trembles, Rivière des Prairies, Plateau Mont-Royal, Outremont, Westmount and The Great Montreal Area, Gatineau and Quebec city.
When it comes to kitchen cleaning, we guys are quite concerned and picky as we all want excellent and neat food. But how about the commercial kitchens? In today's content, I try my best to explain why professional kitchen cleaning is necessary for a restaurant?
Let's get the ball rolling without delay and hit the facts of commercial cleaning together.
One primary reason for commercial kitchen cleaning is that it boosts your running margins. Like if you have a restaurant and want to increase the profits then assure your clients that your kitchen food making environment is perfectly hygienic and neat.
Apart from the lovely places sitting, the other most crucial factor that hits the people most is the clean eating and food. So assure your visitors that your food is cooked in a clean environment.
The second most important reason for considering deep commercial kitchen cleaning is that it is also suitable for your employee's and cook health. Like they will feel replenished and good while working and cooking in the kitchen and try their best to entice their customers. According to the survey, a clean and tidy place impacts your mind.
The third central aspect of commercial kitchen cleaning is that dozens of customers visit, order, and eat throughout the day. During this all process, your kitchen is one of the prominent busiest places. So, for better performance and organizing, you need professional cleaning services who quickly wipe out the dirt, stains, and spots from your kitchen and turn it into a spotless and furnished look.
The fourth main reason for considering commercial kitchen cleaning is that sometimes the teams visit your restaurant without asking, just for the random survey in which they judge and notice your restaurant cleaning credential. They closely observe your kitchen cleaning, so instead of facing any mishap or embarrassment, it is undoubtedly a vital deal for you as a restaurant owner to consider.
Plus, some restaurants are sealed and closed for non-Hygenic and dirty kitchen reasons.
The mentioned above are the main facts you should consider if you are running any commercial restaurant.
Despite this, if your restaurant is in Montreal, Laval, North Shore, Longueuil, North Shore, Québec, Lévis, Trois-Rivières, Gatineau, Ottawa and surrounding areas, and you are looking for professional commercial kitchen cleaning services that provide you with detailed and oriented organized kitchen cleaning along with the assurance of experienced staff, then consider The Montreal Cleaners.
The thing that makes The Montreal Cleaners cleaning services company prominent is their well-trained, highly experienced, and professional staff.
The rest of the products and tools the company's team uses are human and pet-friendly, according to advanced technologies.
Despite this, to provide their customers with maximum benefits, they also offer them affordable budget deals, so anyone can avail The Montreal Cleaners cleaning services and benefit from them.
To know more and for further booking and details, feel free to visit the official website.
https://www.themontrealcleaners.ca/en/
What are you waiting for? Visit the site and make your commercial kitchen cleaning easy and productive.
Either it's for a deep cleaning, moving in cleaning or moving out cleaning or on a regular basis, daily, weekly, biweekly or monthly basis or housemaids or common area cleaning for apartment buildings, regular shared places cleaning, end of tenancy moving in and moving out cleaning services, after construction cleaning services, commercial offices, Floor Stripping and Waxing, Hotel, Motel & Airbnb Cleaning, medical/dental facilities, restaurants, cpe / daycares cleaning, Healthcare, Dental and Medical Office Cleaning, fitness / gym cleaning, Apartment & Condo Building Cleaning  deep spring clean and spring cleaning services you are at the right place. Our house are highly trained to deliver excellent residential cleaning services throughout The Great Montreal.
For booking and chat credentials, visit The Montreal Cleaners official website.