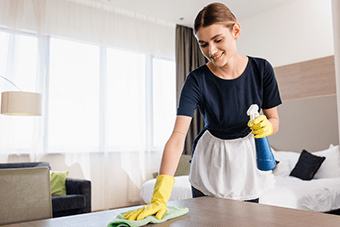 Window Cleaning Services Company Montreal
The Montreal Cleaners will meet your needs when it comes to window cleaning services in Montréal, Laval, North Shore, Longueuil, North Shore, Quebec, Ottawa and Gatineau. Whether you need your home, condo, apartment or office windows cleanings, you will get right the wanted solutions. A free estimate will be provided to you at absolutely no cost. This will help us better identify your needs. We have been servicing The Great Montreal Area for over 10 years. We are experienced and responsible window cleaning company. All the products we use are proven safe for your health and for the environment. What makes our services different is our expertise and availability. Our cleaners are specifically trained to clean your windows and turn them sparkling again.
Office Cleaning Services in Montreal
What are the qualities of a good office cleaning company in Montreal ? punctuality ? honesty ? Intimacy ? every company has its own procedure when it comes to commercial office cleaning services. If The Montreal Cleaners has lured a considerable number of customers to use its services, it's mainly because of its expertise and good reputation in cleaning offices throughout Montreal, Longueuil and Laval. It's not easy for an office owner or manager to choose between the large number of commercial cleaning companies available at the market at present. The Montreal Cleaners service is without a doubt your best choice, because we make sure the job is done the way you want. Our quality control runs regular on-site visit to ensure the office cleaning is perfectly performed.
By choosing The Montreal Cleaners services, be sure you will get a great benefit for your business. We are the best office cleaning company based in Montreal, Longueuil, Laval and Brossard. It's highly recommended to get the services of a professional and reliable cleaning company to take care of your workplace. Why? Because our cleaners are specialized in the commercial cleaning industry. They clean your Montreal office as if it were their own. They are well-trained and use most updated commercial cleaning equipment. Your office image is key to your business goal. And it goes without saying that a clean and organized office is more inviting and leaves a positive first and last impression.
Each office in your company should be clean and tidy as it's the main factor for your employees whole productivity. So they need more than just a simple dusting. The Montreal Cleaners is known as the best office cleaning company in Montreal, Longueuil and Laval. Why ? Because we do understand the importance of having a healthy environment at your workplace. We have been servicing The Great Montreal Area for over 10 years Our cleaning services are available 7/7 for one off or regular on daily, weekly, biweekly or monthly basis. Our office cleaners are professional individuals that clean your office as if it were their own. The cleaning services include but not limited to emptying trash, vacuuming and dusting floors. It also disinfect and sanitize all your office on regular basis.
Residential Domestic Cleaners in Montreal
The Montreal Cleaners is the leading residential cleaning services company located in Montreal. Our maids cleaners have been providing high quality home, apartment and condo services for over 10 years in Montreal,  Laval, North Shore, Longueuil, North Shore, Saint-Laurent, Greenfield Park, West Island, Dorval, Mont Royal, Blainville, Brossard, St-Hubert, Boucherville, Pointe-aux-Trembles, Rivière des Prairies, Plateau Mont-Royal, Outremont, Westmount, Vieux-Montréal, Terrebonne,  Île-des-Sœurs, Repentigny, Saint-Hubert, Gatineau, Ottawa, Outaouais, Saint Sauveur, Hampstead, Ville-Marie, Sud-Ouest, Verdun, Rosemont-la-Petite-Patrie, Mercier, Hochelaga-Maisonneuve, Villeray, Saint-Michel, Parc extension, Ahuntsic, Cartierville, Anjou, Montréal-Nord, St-Léonard, Vimont, Auteuil, Saint-François, Duvernay, Sainte-Dorothée, Fabreville, Chomedey, Renaud, Sainte-Rose, Beaconsfield, Île Perrot, Senneville, Ste-Anne-de-Bellevue, Kirkland, l'Île Bizard, Pierrefonds-Roxboro, Baie d'urfé, Montréal-Est, Dollard-Des-Ormeaux, Pointe-Claire, Lachine, Ville Lasalle, Centre-ville, Côte St-Luc, Côte-des-Neiges, Quebec, Sainte-Foy – Sillery, Trois-Rivières, Beauport, Haute Saint-Charles, Shawinigan, St-Nicolas, Lévis or surrounding area. Our housekeepers are licensed and insured for your protection. You can rely on our expertise and professional domestic house cleaners and dedicated best Montreal maids. When you choose our residential cleaning services you will get exceptional cleaning experience. Our maids objective with every cleaning performed is without a doubt your satisfaction. At The Montreal Cleaners we know that you want to have a clean and organized home for your total relaxation. Our domestic cleaners and house maids are specially trained and are aware of the environmental factor that has to be part of their everyday task. That's why we use eco-friendly cleaning products for your well-being.
Apartment Cleaning Services Montreal & West Island
The Montreal Cleaners specializes in cleaning apartments throughout Montreal and West Island. For over 10 years we perfectly master the residential cleaning techniques and we are different from other companies in the quality of services provided. Over time we were able to gain our customers confidence. Today we have the needed expertise and know-how in the residential apartment or condo cleaning industry in The Great Montreal Area. Our cleaners and house maids are background checked. They are highly trained to your satisfaction. As for the cleaning products, be sure that our detergents are eco-responsible cleaning detergents for the safety of your health and your family well-fare. The cleaning equipment are most advanced for the cleaning efficiency. Whether you need a move in or move out or you simply want your Montreal apartment to be sparkling clean, look no further.
Moving In & Out Cleaning Services Montreal
Time is consuming  when it comes to moving in and out . If you feel that you cannot handle this task, The Montreal Cleaners is here to help you out. Relax and leave it to us. We are the best company proud of being specialized in move in and move out cleaning throughout Montreal, Longueuil and Laval. Our cleaners are prepared to perform this task in a sustainable way. In addition to quality cleaning service, you will make some economies as our rates are the most competitive at the market. Furthermore, we customize our services to meet your specific needs of moving in / out cleaning to your apartment or condo. The cleaning products we use are proven safe for your health, your pets' and the well-being of your family.
Either it's for a deep cleaning, moving in cleaning or moving out cleaning or on a regular basis, daily, weekly, biweekly or monthly basis or housemaids or common area cleaning for apartment buildings, regular shared places cleaning, end of tenancy moving in and moving out cleaning services, after construction cleaning services, commercial offices, Floor Stripping and Waxing, Hotel, Motel & Airbnb Cleaning, medical/dental facilities, restaurants, cpe / daycares cleaning, Healthcare, Dental and Medical Office Cleaning, fitness / gym cleaning, Apartment & Condo Building Cleaning  deep spring clean and spring cleaning services you are at the right place. Our house are highly trained to deliver excellent residential cleaning services throughout The Great Montreal.
Published in

Airbnb Cleaning, Apartment Cleaning Services Montreal, Area Rug Cleaning, Area Rug Cleaning, Bio and green residential and commercial cleaning, carpet cleaning, carpet cleaning montreal, Carpet Cleaning Services, Cleaning services, Commercial Cleaning Services, Condo cleaning services, Disinfection & Cleaning Services, Floor Waxing and Stripping Services, Housekeeper, How-to Articles, Janitorial Services, Mattress Cleaning, Move In / Move Out Cleaning Montreal, Office Cleaning Montreal, Pre and After Party Cleaning Services, Residential & Commercial Cleaning Guide, Residential Cleaning Services, restaurant cleaning, Spring Cleaning Montreal, Spring Cleaning Services, Upholstery Cleaning, Upholstery Cleaning, Window Cleaning Services