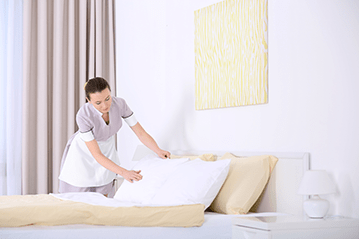 Condo Cleaning is bit different and challenging than cleaning an apartment, But not with Montreal cleaning services. We, at The Montreal Cleaners, take it as our responsibility to make you place healthier, safe and clutter-free. Our sole mission is to bring the spark back to your home in Montreal, Laval, Longueil, Quebec and Lévis.
The reason we are preferred Condo Cleaning service in Montreal, Laval and Longueuil is our diligent attention to each aspect of cleaning your home and apartment, Affordable Prices and Convenience. Our cleaning services are consistent, thorough and fully customized. We work as per the requirement of the customers.
What Makes Us Different?
There are numerous reason to choose The Montreal Cleaners, but the appreciated one is that we make you to fall in love with your home again. Our Extensive experience in the condo and apartment cleaning services field sets us apart from other cleaning service provider. Moreover, we make it sure that our team is updated with the latest tips and cleaning products available in the market. We work with our customer to develop their own cleaning plan that we follows every time.
Our Team
Our Dedicated team is professionally trained, reliable and fully insured. Before hiring a team we properly and thoroughly investigate their background for security purpose. Before assigning any task we give proper professional training to our maids. Our team follows a detailed cleaning process that we developed especially for our customers keeping their needs in mind.
When you hire The Montreal Cleaners for your apartment cleaning services in Montreal, Laval, Longueil, Quebec and Lévis, our team will provide following services:
Bathroom cleaning:
Starting with the cobweb removal, we make it sure that your bathroom is cobweb and dust free. After that we clean the basins, tub, mirrors, doors, tiles, shower and each and every surrounding of your bathroom. Than we clean the toilet from inside and out.
Bedroom Cleaning:
Remove the cobwebs, perform general dusting including cleaning of mirrors ,pots, decorative materials, hanging picture frames, , furniture and each and every item that are sitting on the furniture. Surface hand wiped, change the linens, vacuuming the room thoroughly are some the other important cleaning checklist work that our team performs.
Dining Room Cleaning:
Wipe clean the table, chairs and other furniture. After removal of cobwebs we end the cleaning of this part of your house with vacuuming.
Living Area Cleaning:
Remove the cobwebs, general dusting including cleaning of mirrors, pots, decorative materials, furniture and each and every item that are sitting on the furniture and vacuuming the Living area.
Kitchen Area Cleaning:
We pay the special attention when it comes to clean the kitchen area, because the area where hygiene should be very high. Start cleaning of area with clean wiping of countertop and small appliances from inside and outside. Than we clean sink, stovetop, drip pins, cabinets and anything available in the kitchen. End the cleaning with mopping and vacuuming. Downtown Condo Cleaning
The Montreal Cleaners, Les Nettoyeurs de Montréal, Les Nettoyeurs de Québec, Nettoyage de Tapis, Ménage Total and Femme ménage Montréal are the premier affordable residential and commercial cleaning services. 
Either it's for a deep cleaning, moving in cleaning or moving out cleaning or on a regular basis, daily, weekly or monthly basis or housemaids or common area cleaning for apartment buildings, regular shared places cleaning, end of tenancy moving in and moving out cleaning services, after construction cleaning services, commercial offices, Floor Stripping and Waxing, Hotel, Motel & Airbnb Cleaning, medical/dental facilities, restaurants, cpe / daycares cleaning, Healthcare, Dental and Medical Office Cleaning, fitness / gym cleaning, Apartment & Condo Building Cleaning  deep spring clean and spring cleaning services you are at the right place. Our housemaids are highly trained to deliver excellent residential cleaning services throughout The Great Montreal.