Wall and Ceiling Cleaning Services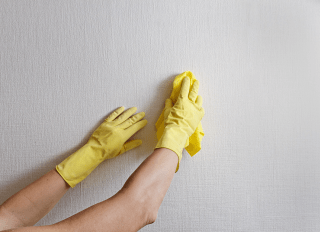 Walls and ceilings are mostly neglected during routine cleaning of the house because it is time-consuming and quite tricky to perform. If observed closely, ceilings have big patches of dust, and they remain greasy also which cause an unhealthy and polluted environment in the house. Spider webs also make its place in the higher corners of the walls and ceilings which should be removed as soon as possible. Montreal cleaning services offer you their convenient and reachable cleaning services, also available in Montreal, Laval and Longueil. We have expert cleaners who know their job well and are efficient also. Our cleaning services include cleaning and scrubbing the walls and ceilings before you paint them, this way the walls look properly cleaned, and the paint also stays for a longer period of time. Smut attached to the ceilings spread all over the house through fan, heat and air conditioning system. Montreal wall cleaning services have a wide range of services offered to our clients which makes us unique in this genre. We believe in giving quality cleaning services to our customers, and excellent reviews on our website are a proof of that. The Montreal Cleaners Household is all you have been looking for, for cleaning of your house walls and ceilings.
Saves Time
Doing all the cleaning part of your house by yourself takes a lot of your free time and mostly remains incomplete. Montreal spring cleaning service also facilitates its customers in Montreal, Laval, Longueil, Quebec and Lévis. We appoint expert cleaners for our clients to give our cleaning services. Our skilled crew takes complete responsibility for cleaning your house walls and ceilings and completes all the tasks within the given time. We, at The Montreal Cleaners Household, ensure our clients to sit back and relax while our cleaners make their house walls and ceilings perfectly tidy and dust free.
Equipment and Tools
Montreal cleaning services is always fully loaded with cleaning equipment and tools which are necessary for the cleaning of walls and ceilings. We operate our cleaning tasks with the help of advanced machinery and tools. Foldable attic stairs spray station and steam generators are some of the equipment that we use for our cleaning services. Cleaning for walls and ceilings require a lot of perfection, skills, and concentration in order to avoid any damage to the other house items and walls as well. This is why; only opt for Montreal Cleaning Services for safe and best cleansing of your house walls and ceilings.
Greasy and full of grime walls and ceilings are unhygienic for the in-house environment. It can cause frequent allergic reactions to the residents and looks super gross. Montreal Cleaning Services is now just a call away and easy accessibly. We are available on urgent basis also and leave our customers ecstatic and gratified. Available in Montreal, Laval, and Longueil, our cleaning services also include scrubbing and sponging of the walls which could be too tiring for you. Call now for a free estimate and more information.
The Montreal Cleaners is a premier affordable residential and commercial cleaning services. 
Either it's for a deep cleaning, moving in cleaning or moving out cleaning or on a regular basis, daily, weekly or monthly basis or housemaids or common area cleaning for apartment buildings, regular shared places cleaning, end of tenancy moving in and moving out cleaning services, after construction cleaning services, commercial offices, Floor Stripping and Waxing, Hotel, Motel & Airbnb Cleaning, medical/dental facilities, restaurants, cpe / daycares cleaning, Healthcare, Dental and Medical Office Cleaning, fitness / gym cleaning, Apartment & Condo Building Cleaning  deep spring clean and
spring cleaning services
you are at the right place. Our housemaids are highly trained to deliver excellent residential cleaning services throughout The Great Montreal.
Commercial, Office and Residential Cleaning Services
Commercial, Office and Residential Cleaning Services
Wall and Ceiling Cleaning Services
Provider Name
The Montreal Cleaners
,
1200 McGill College Avenue, Suite 1100
,
Montreal
,
Quebec
-
H3B 4G7
,
Telephone No.1844 294 2670
Montreal
Montreal, Longueuil, Laval, Blainville, Gatineau, Ottawa, Brossard, Boucherville, St-Hubert, Pointe-aux-Trembles, Rivière des Prairies, Plateau Mont-Royal, Outremont, Westmount
DescriptionBest Residential and Commercial Cleaning Services Company in Montreal The Montreal Cleaners is the best residential and commercial cleaning company in Montreal.
Wall and Ceiling Cleaning Servicess. We are the best Residential Apartment & Condo Green Cleaning Services Montreal Housemaids Services & Domestic Cleaning Services, Residential House & Apartment Cleaning Services Montreal, Apartment Cleaning Services Montreal, Regular Residential House Cleaning Services Gatineau Ottawa, House Cleaning & Maid Services in Montreal, Laval, Longueuil. High Quality Maid Cleaning. Call us for a free quote.