How to Clean and Disinfect Your Home or Office during Flu Season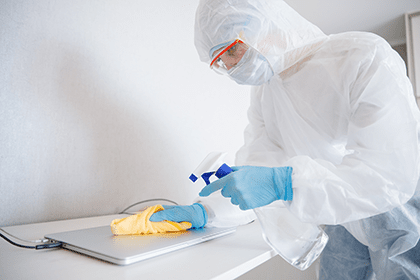 Cold weather is a sign of many diseases, such as fever, flu, and much more. Not only this, but coronavirus is also the main disease nowadays all over the world. So it is necessary to minimize the risk of these diseases. It is only possible by minimizing the spread of germs.
We know that many germs and bacteria are the major cause of many diseases, such as the common flu. In that case, home cleaning and disinfection are much more necessary.
A report showed that almost 40 million people suffer from many diseases in the cold season. These include fever, flu, chills, fatigue, and muscle aches. So try to keep your home clean and disinfect to avoid the entry of germs into your home.
Only you don't live in the home. Many people live and they touch different surfaces. Each surface has different types of germs, so we can't say which germ other people are spreading when any of the family members suffer from the flu. So, the flu may spread easily when you touch the same surface the suffered person has touched.
It is why you should disinfect each corner, surface, kitchen, bathroom, and even wall of the home. Never skip any single corner because it may become the cause of many germs. Not only disinfection, but you may also sanitize your home for the complete removal of germs.
Make sure to clean and disinfect different touched items. These include cabinet pulls, doorknobs, and switches. Not only this, but you should also disinfect computers, laptops, remotes, consoles, and cell phones. If you find it difficult to clean each surface separately.
Never use harmful bleach to wash your fabric. Always recommend bleach that has no color and is safe for fabric. Without using bleach, you may wash your fabrics. It is never suggested to share towels, blankets, and other things. Make sure to sanitize these fabrics at least after a week.
Not only sanitization of surfaces is important. You should also clear and disinfect the air after an illness. Make sure to open the window for some time and allow the fresh air to come into your living space.
A toothbrush is the main thing that you should not share with anyone else. Make sure to replace your toothbrush. Throw off your old brush and keep it away from all family members. Moreover, you may clean and disinfect tools, small toys, and pacifiers.
Sponges and scrubbers are the favorite places for germs to breed and spread. So, always keep both of these things clean and germ-free. You may use a dishwasher to clean and disinfect both of these things.
After reading this guide, you have gotten an idea of how to keep your home clean and disinfect. For more help, you may consult the experts of The Montreal Cleaners. They may easily, quickly, and efficiently clean the entire home. Don't ask them for a one-time cleaning. You may request the experts to clean your home regularly because health is everything. You may visit https://www.themontrealcleaners.ca/en/ and ask experts to help you in Montreal, Laval, North Shore, Longueuil, North Shore, Québec, Lévis, Trois-Rivières, Gatineau, Ottawa, Ahuntsic, Anjou, Baie-d'Urfé, Beaconsfield, Côte-des-Neiges, Côte-Saint-Luc, Downtown Montreal, Dorval, Hampstead, Hochelaga-Maisonneuve, Kirkland, Lachine, LaSalle, Plateau-Mont-Royal, Sud-Ouest, Mercier, Mile End, Montréal-Est, Montreal North, Notre-Dame-de-Grâce (NDG), Outremont, Pierrefonds-Roxboro, Pointe-Claire, Pointe-Saint-Charles, Rosemont-La Petite-Patrie, Sainte-Anne-de-Bellevue, Saint-Laurent, Saint-Léonard, Saint-Michel, Senneville, Verdun, Ville-Émard, Villeray, West Island, Westmount, Auteuil, Chomedey, Duvernay, Fabreville, Îles-Laval, Laval-des-Rapides, Laval-Ouest, Pont-Viau, Sainte-Dorothée, Sainte-Rose, Saint-François, Saint-Vincent-de-Paul, Saint-Hubert, Greenfield Park, LeMoyne, Saint-Lambert, and surrounding areas!
Either it's for a deep cleaning, moving in cleaning or moving out cleaning or on a regular basis, daily, weekly, biweekly or monthly basis or housemaids or common area cleaning for apartment buildings, regular shared places cleaning, end of tenancy moving in and moving out cleaning services, after construction cleaning services, commercial offices, Floor Stripping and Waxing, Hotel, Motel & Airbnb Cleaning, medical/dental facilities, restaurants, cpe / daycares cleaning, Healthcare, Dental and Medical Office Cleaning, fitness / gym cleaning, Apartment & Condo Building Cleaning  deep spring clean and spring cleaning services you are at the right place. Our house are highly trained to deliver excellent residential cleaning services throughout The Great Montreal.
Summary
Article Name
How to Clean and Disinfect Your Home or Office during Flu Season
Description
Don't let the flu take over! Get expert tips on cleaning and disinfecting your home or office during flu season to keep yourself and others protected.
Author
Publisher Name
Publisher Logo