Ways to Keep Your Home or Office Organized and Clean with Minimal Effort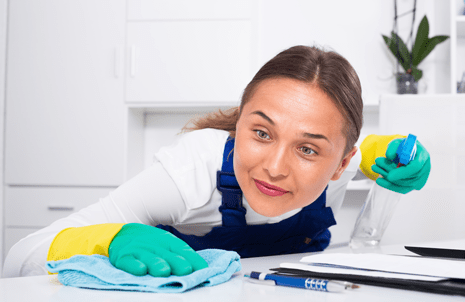 Many people consider the office to be their second home. The office must be maintained clean for both staff and visitors' health. With all of the action in the office, it will surely become untidy and unclean. No one wants to work in an unclean environment because it negatively affects the organization.
Here are a few basic ways to help you tidy your office with little effort and time.
Take care of the paper:
One of the main causes of an untidy office is paper. Reports, sticky notes, unused paper, and outdated documents are prevalent in any office. Therefore, all of these things add up and make the office untidy.You may also recycle paper by sorting it into the right bins!
Similar to paper, your office could have a lot of pens, of which only a small fraction write and an even smaller number are utilized. These pens create an unwanted mess in the workplace and harm the office's overall cleanliness.
Having one or two backup pens is OK, but do you need five pens when you only use one? Throwing away pens when they have finished writing should be standard office procedure. It might not be a good place to toss away working pens, so set aside a drawer or box for writing pens to keep your office tidy.
Sort out your stationery:
Stationery items can also add to the untidiness of a workplace. They are necessary for any business, without a doubt. But it is unlikely that you will require 10 staplers, five tape dispensers, and several markers in every color for the same office.
Excessive stationery is unnecessary and difficult to manage in the workplace. Therefore you should dispose of it as soon as possible.Keep only the necessary stationery things, and try to keep your stationery items to a minimum.
Monitors and keyboards are typically the most used items in any office. Yet they are also the most neglected.
Dusty monitors and keyboards harm one's health and can lead to disease. They're breeding places for germs, mainly the uncleaned crevices of the keyboard. They are regular cleaning required to keep your office in perfect condition.It is important to clean monitors on a regular basis. Keyboards are more difficult to clean. However, if you have access to canned air, it's a fairly simple way to clean between the keys and keep your keyboard clean.
One of the most common causes of office untidiness is food. Food messes look more pleasant. But they also smell and may cause significant risks to employees. Food is also required, and eating at the office may be necessary at times.
When you eat in the office, try to put down paper or sheets. Throw away any food that you do not eat; don't keep it in the fridge where you might forget about it. Food spills should be cleaned up as quickly as possible.
The office management may also make it a point to clear out their fridges regularly, once or twice a week. If you think your company requires a devoted and consistent cleaning service, The Montreal cleaners is the best office cleaning company for you in Montreal, Laval, North Shore, Longueuil, North Shore, Québec, Lévis, Trois-Rivières, Gatineau, Ottawa, Ahuntsic, Anjou, Baie-d'Urfé, Beaconsfield, Côte-des-Neiges, Côte-Saint-Luc, Downtown Montreal, Dorval, Hampstead, Hochelaga-Maisonneuve, Kirkland, Lachine, LaSalle, Plateau-Mont-Royal, Sud-Ouest, Mercier, Mile End, Montréal-Est, Montreal North, Notre-Dame-de-Grâce (NDG), Outremont, Pierrefonds-Roxboro, Pointe-Claire, Pointe-Saint-Charles, Rosemont-La Petite-Patrie, Sainte-Anne-de-Bellevue, Saint-Laurent, Saint-Léonard, Saint-Michel, Senneville, Verdun, Ville-Émard, Villeray, West Island, Westmount, Auteuil, Chomedey, Duvernay, Fabreville, Îles-Laval, Laval-des-Rapides, Laval-Ouest, Pont-Viau, Sainte-Dorothée, Sainte-Rose, Saint-François, Saint-Vincent-de-Paul, Saint-Hubert, Greenfield Park, LeMoyne, Saint-Lambert, and surrounding areas. Check out their services and customer reviews. Their professional and well-trained staff can handle everything from office cleaning and restroom services to window cleaning and carpet cleaning!
Either it's for a deep cleaning, moving in cleaning or moving out cleaning or on a regular basis, daily, weekly, biweekly or monthly basis or housemaids or common area cleaning for apartment buildings, regular shared places cleaning, end of tenancy moving in and moving out cleaning services, after construction cleaning services, commercial offices, Floor Stripping and Waxing, Hotel, Motel & Airbnb Cleaning, medical/dental facilities, restaurants, cpe / daycares cleaning, Healthcare, Dental and Medical Office Cleaning, fitness / gym cleaning, Apartment & Condo Building Cleaning  deep spring clean and spring cleaning services you are at the right place. Our house are highly trained to deliver excellent residential cleaning services throughout The Great Montreal.
Summary
Article Name
Ways to Keep Your Home or Office Organized and Clean with Minimal Effort
Description
Say goodbye to clutter and mess! Learn easy and efficient ways to keep your home or office organized and spotless without breaking a sweat.
Author
Publisher Name
Publisher Logo