Residential and Commercial Carpet Cleaning Services in Montreal
A dirty carpet can result in serious health troubles. After you have the carpet cleaned, you may notice that your allergies are not bothering you nearly as much. Let The Montreal Cleaners do the job for you. We have the expertise in cleaning and caring for all types of carpet. Our teams have the experience and knowledge to not only be removing dirt from your carpet; we'll also be removing dust and other harmful allergens that can contaminate the air you breathe on a daily basis. Our carpet cleaning services are thorough and we will leave your space looking and smelling great.
We offer steam cleaning services for your wall to wall carpets, rugs, leather, mattresses, upholstery, tile, chairs and more. Our carpet cleaning technicians are experts to eliminate pet urine odors and remove food stains, blood, pet accidents, dirt, tomato, juice, soda, wine, coffee, And many more!
We have been servicing The Great Montreal Area for over 15 years now. Our expert staff is trained to clean types of rugs and carpets in the most efficient manner. They use quality cleaning products in a sustainable way. The products are efficient and pet and family safe for your home and the environment. Our clients love us for our meticulous attention to detail, fair pricing, and convenience. Don't believe us? Let us show you.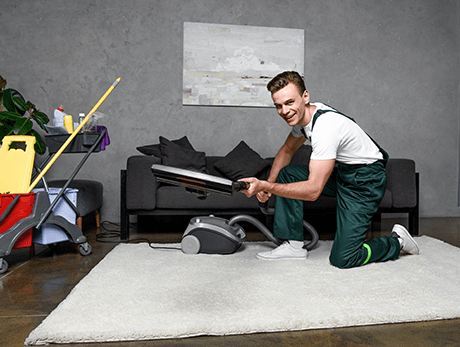 Carpet Cleaning Services
The Montreal Cleaners offers high quality residential and commercial carpets cleaning services. If you're looking for fair prices, honest people, on-time arrivals and professionalism, you've come to the right place. We are here to guarantee maximum satisfaction with our cleaning process. Our organic products are, non-toxic, chemical free, baby friendly and pet friendly. The Montreal Cleaners offers free estimates on site so as to better identify your needs.
Feel free to contact us for further assistance in order to provide you with more information about our services.
GET A FREE QUOTE FOR CARPET CLEANING SERVICES IN MONTREAL, LAVAL AND LONGUEUIL
For high quality service, we suggest that we come to your house or office to inspect and evaluate the area that requires cleaning. This will be done at absolutely No Cost.
Our carpet cleaning service Montreal include:
At The Montreal Cleaners we work around your schedule. We are available morning, afternoon or evening, weekday or weekend. Our goal is to provide you with exceptional customer carpet cleaning service experience. 
We specialize in cleaning delicate rugs of all kinds and carpet cleaning services to residential and commercial sectors in Montreal.
After Disaster Cleaning

Wash Walls

Fridge cleaning

Oven cleaning
Housekeeping Services in Montreal
The Montreal Cleaners provides quality housekeeping and maid services services to Montreal residents as well as surrounding areas to make their home sanitary and spotless. Our housekeepers are highly trained and know the exact and highly effective method of cleaning. We have a reliable reputation when it comes to cleaning and housekeeping.
Let The Montreal Cleaners be your partner for complete and reliable house cleaning services in Montreal and throughout The Great Montreal Area.
Our staff are professionally trained, carefully screened, bonded and insured.
At The Montreal Cleaners our maids and housekeepers provide you our services at an affordable rate to help our customer avail the excellent cleaning services. We offer morning, afternoon, evening packages for customer's convenience. Not only this we can also give daily, weekly, bi-weekly and monthly basis packages according to customer's availability.
At The Montreal Cleaners, we are committed to providing you with high quality housekeeping services at affordable rates.
Our staff are professionally trained, carefully screened, bonded and insured.
Friday, 18 September 2020
/
Published in
Airbnb Cleaning
,
Apartment Cleaning Services Montreal
,
Area Rug Cleaning
,
carpet cleaning
,
Carpet Cleaning Services
,
Cleaning services
,
Commercial Cleaning Services
,
Condo cleaning services
,
Floor Waxing and Stripping Services
,
Housekeeper
,
Janitorial Services
,
Move In / Move Out Cleaning Montreal
,
Pre and After Party Cleaning Services
,
Residential & Commercial Cleaning Guide
,
Residential Cleaning Services
,
Spring Cleaning Montreal
,
Spring Cleaning Services
The Montreal Cleaners is your best choice when it comes to apartments cleaning in Montreal, Laval, Longueuil, North Shore, South Shore, Quebec, Lévis and suburb areas. We have over 10 years of experience in cleaning industry. A steller reputaion that we are proud of. We provide our customers with a highly qualified staff to clean their apartments using green and responsible cleaning solutions. We only use proven and safe methods. And for your peace of mind our employees are bonded and fully insured. The apartment cleaning services we provide could be a basic such as sweeping or mopping surfaces, kitchen, bathrooms or a more thorough apartment maids cleaning service. Our house cleaning services cover the Great Montreal Area including Laval, Longueuil, Rive-Sud, Rive-Nord, West-Island, Ville-Marie, Verdun, Mont-Royal, Rosemont, Maisonneuve, Villeray, Saint-Michel, Ahuntsic, Cartierville, St-Laurent, Anjou, Île-Des-Sœurs, Beaconsfield, Île Perrot, Senneville, Kirkland, Sainte-Genevieve, Pierrefonds-Roxboro, Baie D'urfé, Dorval, Pointe-Claire, Lachine, Lasalle, Centre-Ville, Vieux-Montréal, Côte St-Luc, Hampstead, Westmount, Outremont, Côte-Des-Neiges, Boucherville, Brossard, Greenfield Park, Saint- Hubert, LeMoyne, Saint-Hubert, Saint-Lambert, Beloeil, Chambly, Otterbrun Park, Saint Denis, Vimont, Auteuil, Saint-François, Duvernay, Sainte-Dorothée, Sainte-Rose, Fabreville, Chomedey, Laval-Des-Rapides, Laval-Sur-Le-Lac, Iles De Laval and Laval Ouest.
Whether you are looking for a one time or regular cleaning service for your home, apartment or condo, you are at the right place. Our Montreal Maids Cleaners offer a wide variety of residential cleanings that match your requirements. We have been providing high quality residential services for over 15 years. Wether you live in Downton maid Montreal or in the suburbs, Laval, Longueuil, Brossard, Blainville, l'île des Sœurs, your cleaning request will be performed in no time. The Montreal Cleaners is a trustworthy and reliable housekeeping specialist with excellent customer service. We are experienced, bonded and fully insured. Our cleaners are well-trained, discret and punctual. The products we use are biodegradable, non-toxic and efficient. We offer daily, weekly, biweekly or monthly cleaning services. We can supply you with house maids at very short notice.
Either it's for a deep cleaning, moving in cleaning or moving out cleaning or on a regular basis, daily, weekly, bi-weekly or monthly basis or housemaids or common area cleaning for apartment buildings, regular shared places cleaning, end of tenancy, after construction cleaning services, commercial offices, Floor Stripping and Waxing, Hotel, Motel & Airbnb Cleaning, medical/dental facilities, restaurants, cpe / daycares cleaning, Healthcare, Dental and Medical Office Cleaning, fitness / gym cleaning, Apartment & Condo Building Cleaning  deep spring clean and spring cleaning services you are at the right place. Our housemaids are highly trained to deliver excellent residential cleaning services throughout The Great Montreal.
Areas Covered
Pointe-aux-Trembles, Rivière des Prairies, Montréal-Nord, Anjou, St-Léonard, Montréal-Est Rosemont, Petite Patrie, St-Michel, Ahuntsic, Villeray, Plateau Mont-Royal, Outremont, Westmount, Ville Mont-Royal, Notre-Dame de Grace, Cartierville, Cote-St-Luc, Hampstead, St-Laurent, Verdun, Lasalle, Lachine, Roxboro, Dollard-des-Ormeaux, Pointe Claire, Dorval, lie Bizzard.
Laval, St-Francois, Duvernay, Vimont, Auteuil, Pont-Viau, Laval-des Rapides, Chomedey, Ste-Rose, Fabreville, Ste-Dorothée, Laval-Ouest, Terrebonne, Mascouche, La Plaine, 136s-Des Filions, Lorraine, Rosemère, Boisbhand, Ste-Thérèse, Blainville, Mirabel, St-Janvier, St-Jérôme, St-Antoine, Bellefeuille, Lafontaine, St-Eustache, Deux-Montagnes, Ste Marthe sur le lac.
Boucherville, Longueuil, Ste-Julie, St-Hubert, Beloeil, Charnbly, Brossard, St-Lambert, Greenfield Park, LaPrairie