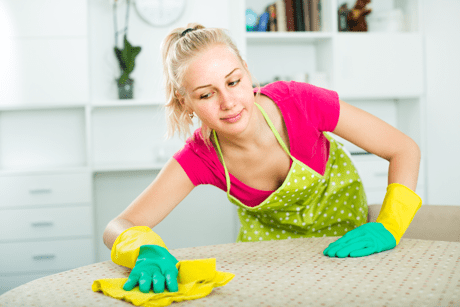 In Montreal, it can be difficult to find the time and energy to maintain a clean and tidy home in today's fast-paced lifestyle. Thankfully, there are numerous professional cleaning services available that can help homeowners achieve a spotless and organized living space. This guide will delve into the reasons why investing in these services is worthwhile and offer guidance on selecting the best cleaning service for your specific needs.
With busy work schedules and personal commitments, finding time for comprehensive cleaning can be challenging for many homeowners.
Professional cleaning services in Montreal can efficiently handle all cleaning tasks, allowing homeowners to focus on other important aspects of their lives.
Time-saving benefits also include the avoidance of physically demanding and time-consuming tasks, such as deep cleaning carpets, scrubbing grout lines, and dusting hard-to-reach places.
Professional cleaning services in Montreal employ trained and experienced cleaning professionals who possess the necessary expertise and skills to tackle any cleaning challenge effectively.
They are well-versed in the latest cleaning techniques, products, and equipment, ensuring optimal results and the use of safe and eco-friendly cleaning practices.
From removing stubborn stains to sanitizing surfaces, professional maids cleaners have the knowledge and tools to get the job done efficiently and effectively.
Every home is unique, and cleaning requirements can vary from one household to another. Professional cleaning services in Montreal offer tailored cleaning solutions to suit individual needs.

Prior to the cleaning session, reputable cleaning companies conduct thorough consultations to understand the client's specific cleaning requirements and preferences.

This personalized approach ensures that every nook and cranny of the home is addressed, leaving the space spotless and customized to the homeowner's satisfaction.
While some homeowners may perceive professional cleaning services as an unnecessary expense, it is vital to consider the long-term cost-effectiveness they offer.
Investing in professional cleaning services helps prevent the buildup of dirt, dust, and bacteria, which can lead to costly repairs or replacements down the line.
Furthermore, professional maids cleaners utilize high-quality cleaning products and equipment, ensuring an efficient and thorough cleaning process that can extend the lifespan of items such as carpets, upholstery, and appliances, ultimately saving homeowners money.
Montreal houses various cleaning service providers, each offering unique packages and expertise.

This guide will present a comprehensive comparison of the best cleaning services in Montreal, evaluating factors such as reputation, customer reviews, pricing, range of services, and flexibility.

By providing an unbiased analysis, homeowners can make informed decisions when selecting a cleaning service that aligns with their specific needs and budget.
Apart from one-time deep cleaning sessions, professional cleaning services in Montreal also offer regular maintenance cleaning options.

This section will provide tips and insights on how to maintain a tidy home between professional cleanings.

It will include strategies to effectively manage clutter, establish cleaning routines, and incorporate simple habits that contribute to a cleaner living space.
In conclusion, professional cleaning services in Montreal offer numerous benefits that make them a worthwhile investment for homeowners. From saving time and effort to benefiting from professional expertise and receiving tailored cleaning solutions, these services ensure a spotless and organized home. Additionally, their cost-effectiveness in the long run and the convenience they provide cannot be overstated. By conducting thorough research and utilizing the comprehensive comparison provided, homeowners can make an informed decision when selecting a cleaning service in Montreal. With the help of professional housekeepers cleaners, maintaining a tidy and fresh home becomes an achievable goal in Montreal, Laval, North Shore, Longueuil, North Shore, Québec, Lévis, Trois-Rivières, Gatineau, Ottawa, Ahuntsic, Anjou, Baie-d'Urfé, Beaconsfield, Côte-des-Neiges, Côte-Saint-Luc, Downtown Montreal, Dorval, Hampstead, Hochelaga-Maisonneuve, Kirkland, Lachine, LaSalle, Plateau-Mont-Royal, Sud-Ouest, Mercier, Mile End, Montréal-Est, Montreal North, Notre-Dame-de-Grâce (NDG), Outremont, Pierrefonds-Roxboro, Pointe-Claire, Pointe-Saint-Charles, Rosemont-La Petite-Patrie, Sainte-Anne-de-Bellevue, Saint-Laurent, Saint-Léonard, Saint-Michel, Senneville, Verdun, Ville-Émard, Villeray, West Island, Westmount, Auteuil, Chomedey, Duvernay, Fabreville, Îles-Laval, Laval-des-Rapides, Laval-Ouest, Pont-Viau, Sainte-Dorothée, Sainte-Rose, Saint-François, Saint-Vincent-de-Paul, Saint-Hubert, Greenfield Park, LeMoyne, Saint-Lambert, and surrounding areas.
Either it's for a deep cleaning, moving in cleaning or moving out cleaning or on a regular basis, daily, weekly, biweekly or monthly basis or housemaids or common area cleaning for apartment buildings, regular shared places cleaning, end of tenancy moving in and moving out cleaning services, after construction cleaning services, commercial offices, Floor Stripping and Waxing, Hotel, Motel & Airbnb Cleaning, medical/dental facilities, restaurants, cpe / daycares cleaning, Healthcare, Dental and Medical Office Cleaning, fitness / gym cleaning, Apartment & Condo Building Cleaning  deep spring clean and spring cleaning services you are at the right place. Our house are highly trained to deliver excellent residential cleaning services throughout The Great Montreal.