Saturday, 16 October 2021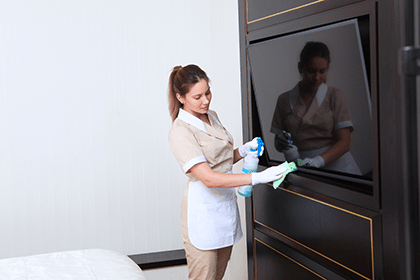 As you know that the world is still facing a lot of issues and hurdles due to this coronavirus (COVID-19) pandemic. It's been almost one year but still, the wave is roaming all over the world.
In this situation, the thing that matters most for all of us is cleaning and disinfecting. There was a time when people were not that much conscious and serious about the disinfection cleaning services and professional house and office cleaning services company hiring.
But after this COVID all of us are thinking and getting conscious about the cleaning and try our level best to make our place perfectly furnish and spotless.
To continue this, as by the name of the title you guys are quite aware that my today's article is all about the corona in which my main point is to trigger this question that how to kill the coronavirus with cleaning?
Instead of dragging this more, let's quickly move towards the point and reveal this myth together.
The first easiest and basic approach through which you can clean your residential, commercial, industrial, or workplace perfectly free from germs is to hire professionals housekeeper.
Hiring the professionals maid cleaner to help you a lot and make your place perfectly spotless as they know what are the effective and eco-friendly green cleaning products through which they can completely kill the germs and bacteria from your place and make it furnish and free from the germs.
Focus on the disinfection cleaning services:
The next thing is to hire disinfection and sanitize cleaning services instead of casual or routine cleaning.
Most of the time people think or believe that both are the same or hiring professionals for casual cleaning is enough to protect them from this infection wave.
But no, there isn't anything like that, for the sake of complete shield and protection you need to consider or hire professional and expert disinfection cleaning services instead of the local or casual routine regular cleaning services.
Remember that disinfection cleaning is way more different from routine cleaning whether it's about the tricks, products, and equipment.
The mentioned above are the main and basic ways through which you can protect your place from this virus.
How to Clean and Disinfect Your Home Against COVID-19
Despite this, if you are Montreal,  Laval, North Shore, Longueuil, North Shore, Saint-Laurent, Greenfield Park, West Island, Dorval, Mont Royal, Blainville, Brossard, St-Hubert, Boucherville, Pointe-aux-Trembles, Rivière des Prairies, Plateau Mont-Royal, Outremont, Westmount, Vieux-Montréal, Terrebonne,  Île-des-Sœurs, Repentigny, Saint-Hubert, Gatineau, Ottawa, Outaouais, Saint Sauveur, Hampstead, Ville-Marie, Sud-Ouest, Verdun, Rosemont-la-Petite-Patrie, Mercier, Hochelaga-Maisonneuve, Villeray, Saint-Michel, Parc extension, Ahuntsic, Cartierville, Anjou, Montréal-Nord, St-Léonard, Vimont, Auteuil, Saint-François, Duvernay, Sainte-Dorothée, Fabreville, Chomedey, Renaud, Sainte-Rose, Beaconsfield, Île Perrot, Senneville, Ste-Anne-de-Bellevue, Kirkland, l'Île Bizard, Pierrefonds-Roxboro, Baie d'urfé, Montréal-Est, Dollard-Des-Ormeaux, Pointe-Claire, Lachine, Ville Lasalle, Centre-ville, Côte St-Luc, Côte-des-Neiges, Quebec, Sainte-Foy – Sillery, Trois-Rivières, Beauport, Haute Saint-Charles, Shawinigan, St-Nicolas, Lévis or surrounding areas residential and looking for the COVID expert and disinfection cleaning services company then I recommend you guys to visit THE MONTREAL CLEANERS.
To know more about this company, its staff, and their expert and advanced cleaning services feel free to visit the website individually.
https://www.themontrealcleaners.ca/en/
Either it's for a deep cleaning, moving in cleaning or moving out cleaning or on a regular basis, daily, weekly, biweekly or monthly basis or housemaids or common area cleaning for apartment buildings, regular shared places cleaning, end of tenancy moving in and moving out cleaning services, after construction cleaning services, commercial offices, Floor Stripping and Waxing, Hotel, Motel & Airbnb Cleaning, medical/dental facilities, restaurants, cpe / daycares cleaning, Healthcare, Dental and Medical Office Cleaning, fitness / gym cleaning, Apartment & Condo Building Cleaning  deep spring clean and spring cleaning services you are at the right place. Our house are highly trained to deliver excellent residential cleaning services throughout The Great Montreal.
Read More >>
Contact Us >>
Published in

Airbnb Cleaning, Apartment Cleaning Services Montreal, Area Rug Cleaning, Area Rug Cleaning, Bio and green residential and commercial cleaning, carpet cleaning, carpet cleaning montreal, Carpet Cleaning Services, Cleaning services, Commercial Cleaning Services, Condo cleaning services, coronavirus cleaning and disinfecting, Disinfection & Cleaning Services, Floor Waxing and Stripping Services, Housekeeper, How-to Articles, Janitorial Services, Mattress Cleaning, Move In / Move Out Cleaning Montreal, Office Cleaning Montreal, Pre and After Party Cleaning Services, Residential & Commercial Cleaning Guide, Residential Cleaning Services, restaurant cleaning, Spring Cleaning Montreal, Spring Cleaning Services, Upholstery Cleaning, Upholstery Cleaning, Window Cleaning Services