The Best Basement Cleaning Services
The Montreal Cleaners is the leading cleaning company providing the best quality basement cleaning service at possible low rates. Our Montreal Maids serve you in all types of cleaning services.
One of the most cluttered places in your basement and usually people don't pay attention to its cleaning. You may keep your spare tools, paint buckets, tires, broken and repairable furniture and many other things there. In short, you stay almost every additional object there in the basement. As there is a massive amount of clutter and material things, people feel a headache to clean it.
If you want to keep it clean and you don't have ample and energy to clean it. Let us know about your requirements and needs relating to cleaning. We at The Montreal Cleaners provide you with the best quality Basement Cleaning Services. Rearrange all the objects over there and make space for new things. There are some tasks which require more labour force and energy to disinfect that. Basement Cleaning Service itself a labour-intensive job and require time and energy. Our professional Montreal maids cleaners and well-trained household not only have that needed power, but they possess all the necessary skills and expertise to clean it.
Our Basement Cleaning Service Tasks
Wipe off the dust buildup from the ceiling fans, lights, and stainless steel fixture

Thoroughly clean the furniture

Clean the mirrors and glasses

Clean all the horizontal and vertical surfaces

Windows, walls, doors, and baseboard cleaning
Remove the dust buildup from floor

Remove and replace the trash bags

Wash and vacuum the floor
These are the essential tasks which we perform in basement cleaning services. We deliver all of these cleaning tasks with full care and attention and make sure you get a neat, clean, tidy, and hygienic place.
Wiping off the dust
The first thing we do it to put all the objects out of the basement and start cleaning off the dust from the ceiling. There may be dust buildup on the fans and ceilings. Our professional cleaners and Montreal Maids deal with dust accumulation efficiently. If there are any cobwebs in the upper corners and on the roof, our professionals maids and housekeepers remove them at priorities. There may be rust spots on the stainless steel fixture we remove the spots from there.
Thorough Furniture Cleaning
People keep their spare and repairable furniture in the basement. The furniture cleaning is also a part of Basement Cleaning. We at The Montreal Cleaners are the professional and leading cleaning company, understand the value of your assets. We remove all the dust from there and keep them protected from further buildup.
Walls, Windows, Doors, and Baseboard Cleaning
We perform a thorough and comprehensive cleaning considering every portion of your basement. Our cleaning staff has strict instruction not to overlook and ignore even a small detail. They wipe off dust accumulation and spots from the walls, doors, windows, and the baseboard you have in your basement.
Dusting, vacuuming and washing the floor
All the dust, dirt, trash, and mess falls on the floor that needs to be cleaned. Our professional cleaners provide you with thorough floor cleaning services as well. They remove all the grime, grease, and spills spots from the floor surface.
These are the critical basement cleaning tasks which we perform. You can hire our cleaning services any time you need it. Our cleaners will lead you to the next level of quality services.
We provide residential regular, one time home cleaning services, deep cleaning services, office cleaning services, green cleaning services, moving in/out cleaning services, spring cleaning, commercial cleaning, Janitorial Services, apartment & condo cleaning services, airbnb cleaning services, renovation / construction cleaning services, Pre and After Party Cleaning Services, end of tenancy / lease cleaning services, Montreal maids services,...

For high quality service, we suggest that we come to your house or office to inspect and evaluate the area that requires cleaning. This will be done at absolutely No Cost.
The Montreal Cleaners is the best residential and Commercial office cleaning company in Montreal. Detail-oriented, eco-responsible, high Quality and cost-efficient.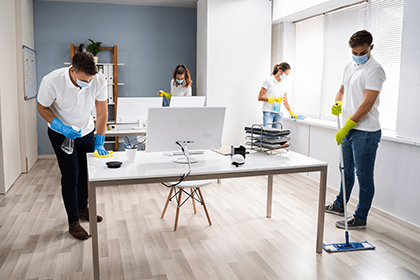 Thursday, 03 June 2021
/
Published in
Airbnb Cleaning
,
Apartment Cleaning Services Montreal
,
Area Rug Cleaning
,
Area Rug Cleaning
,
Bio and green residential and commercial cleaning
,
carpet cleaning
,
carpet cleaning
,
Carpet Cleaning Services
,
Cleaning services
,
Commercial Cleaning Services
,
Condo cleaning services
,
Disinfection & Cleaning Services
,
Floor Waxing and Stripping Services
,
Housekeeper
,
How-to Articles
,
Janitorial Services
,
Mattress Cleaning
,
Move In / Move Out Cleaning Montreal
,
Office Cleaning Montreal
,
Pre and After Party Cleaning Services
,
Residential & Commercial Cleaning Guide
,
Residential Cleaning Services
,
restaurant cleaning
,
Spring Cleaning Montreal
,
Spring Cleaning Services
,
Upholstery Cleaning
,
Upholstery Cleaning
,
Window Cleaning Services
The Montreal Cleaners covers all areas of Montréal, Laval, North Shore, Longueuil, North Shore, Quebec, Ottawa and Gatineau when it comes to window cleaning services. We use the most advanced water technology to clean and wash your residential or commercial windows in a safe and efficient way. Our window cleaners are specially trained and they are equipped with the tools that enable them to access normally inaccessible places. Special water is used to clean your windows perfectly. All type of windows are treated including their frames and lower sills. They are cleaned from inside and outside. It goes without saying that clean windows gives more positive feeling and enhances happiness inside your house. So do not wait. Call us now and you will see how we can turn your windows sparkling clean again.
The Montreal Cleaners is a Montreal-based office cleaning services company you can trust. Our specially trained cleaners offer services that go beyong just cleaning floors and desks. A clean and tidy office reflects positively on both your employees and customers. At The Montreal Cleaners we pride ourselves in the strong relationships we have built with our clients, which actually is our key to success. Your company's whole image is tribute to how organized and welcoming your office is. We are committed to delivering high professional standards for very competitive prices. Thus creating a more favorable and pleasant environment to further boost your staff overall productivity So when choosing an office cleaning company for your Montreal office, all these facts have to be considered.We are a Montreal-based office cleaning company. We provide quality janitorial and commercial office cleaning solutions in order to maintain and turn your workplace into a more pleasant area. Our services include but not limited to cleaning the floors, disinfecting the kitchen and the floors as well as providing the routine, regular basic cleanings. Our maids and cleaners are experienced, bonded and fully insured. They use sophisticated methods adaptable to your main office cleaning needs. They also were trained to use most advanced cleaning equipment and organic green cleaning agents. We are committed to providing you with high quality and safe commercial office cleaning service throughout Montreal,  Laval, North Shore, Longueuil, North Shore, Saint-Laurent, Greenfield Park, West Island, Dorval, Mont Royal, Blainville, Brossard, St-Hubert, Boucherville, Pointe-aux-Trembles, Rivière des Prairies, Plateau Mont-Royal, Outremont, Westmount, Vieux-Montréal, Terrebonne,  Île-des-Sœurs, Repentigny, Saint-Hubert, Gatineau, Ottawa, Outaouais, Saint Sauveur, Hampstead, Ville-Marie, Sud-Ouest, Verdun, Rosemont-la-Petite-Patrie, Mercier, Hochelaga-Maisonneuve, Villeray, Saint-Michel, Parc extension, Ahuntsic, Cartierville, Anjou, Montréal-Nord, St-Léonard, Vimont, Auteuil, Saint-François, Duvernay, Sainte-Dorothée, Fabreville, Chomedey, Renaud, Sainte-Rose, Beaconsfield, Île Perrot, Senneville, Ste-Anne-de-Bellevue, Kirkland, l'Île Bizard, Pierrefonds-Roxboro, Baie d'urfé, Montréal-Est, Dollard-Des-Ormeaux, Pointe-Claire, Lachine, Ville Lasalle, Centre-ville, Côte St-Luc, Côte-des-Neiges, Quebec, Sainte-Foy – Sillery, Trois-Rivières, Beauport, Haute Saint-Charles, Shawinigan, St-Nicolas, Lévis or surrounding areas.
The Montreal Cleaners is a professional office cleaning company based in Montreal. We can clean your workplace in a sustainable way by using eco-friendly cleaning products. A well organized and tidy office is the first thing that your clients notice. We understand this important aspect. That's why we offer you high quality office cleaning solutions for most competitive prices throughout The Great Montreal Area. We have been in the commercial cleaning industry for over 10 years now and we deserve your trust in our experience. Whether you have a small or medium sized company we have the right cleaning service to meet your exact cleaning requirements.
The Montreal Cleaners provides office cleaning services in The Great Montreal Area. We offer quality and affordable cleaning services performed by highly trained cleaners. Our commercial cleanings include day to day routine cleaning as well as office carpet and window cleaning services. The Montreal Cleaners delivers office cleaning that are tailored to your specific needs. We ensure your satisfaction through good customer service and quality control. We are committed to protecting nthe environment by using eco-responsible cleaning agents. Our maids also use microfiber cleaning cloths to minimize chemical cleaning and water use as well as using biodegradable plastic bags. Office cleaning services can be provided on daily, weekly, biweekly or monthly basis.
If you are looking for cleaning your office, you are at the right place. The Montreal cleaners is your best choice. We are the leading office cleaning company in Montreal, Longueuil and Laval. Our prime aim is to deliver high quality commercial solutions for your workplace, your employees and potential customers. As for workplace, we know that an organized office is a sign of welcome as it's the first impression. Your clients will know how organized and punctual their business with you will be from how your office looks. Your employees as well will be more creative, beacuse a clean and organized workplace is of great importance to your overall staff pruductivity. At The Montreal Cleaners we are responsible. We use eco-friendly, efficient cleaning agents that are safe for your health, your emplyees' and customers.
The Montreal cleaners has over 10 years in office cleaning services in Montreal, Longueuil and Laval. We are proud of being close partners to our customers. Most of our clientele is gained through previous clients recommending our commercial office services. We constantly try to provide high quality services for very competitive prices. If you are looking for professional and reliable office cleaning services in The Great Montreal Area, then we are the right choice. In order to succeed in your business you have to think of your employees and guests as well. You have to provide them with a healthy workplace. Your staff will give its best when they work in a clean and tidy environment. Your clients will make business with you because they feel welcome at your office if it's clean and delivers a positive mood. So before hiring a company to clean your Montreal office, you will have to consider all these facts.
Because of the hectic and busy life we live today, you may not always be ready to clean your house, condo or apartment on your own. So what you can do to fix your issue is to hire a professional residential house cleaning company. The Montreal Cleaners is then your best choice when it comes to house cleaning solutions. Choosing our services is absolutely benefic to you. We are experienced and we have been delivering quality home, condo or apartment cleaning services for over 10 years across The Great Montreal Area. The service we provide is professional and detail-focused. Our highly trained housemaids and cleaners do not overlook any part in your home. Furthermore, the cleaning products used are eco-friendly, green cleaning agents.
The Montreal Cleaners is the best residential cleaning services company in in Montréal, Laval, North Shore, Longueuil, North Shore, Quebec, Ottawa and Gatineau. We specialize in cleaning condos and apartments throughout The Great Montreal Area. Our company has a strong reputation as a professional and responsible cleaning expert. We believe that everybody has the right to live in a clean and safe environment. Your happiness starts from home and because we know that you may not have time or power to make the cleaning of your house on your own, we offer to help you out. Our residential cleaners and maids are at your service. They are well-trained to turn your house, condo or apartment sparkling clean again. The products they use are eco-friendly for the protection of your health and your family's.
At The Montreal Cleaners we are aware of the fact that your home is your palace and that you want to enjoy your time fully without thinking of keeping everything organized, but with time this piles up and then you find yourself in the middle of chaos. The Montreal Cleaners have good news for you. We will help you out. We have been servicing Montréal, Laval, North Shore, Longueuil, North Shore, Quebec, Ottawa and Gatineau for over 10 years, and we know how to turn your house sparkling clean again. Our well-trained cleaners and housemaids will tackle dirt and grime. Thanks to the environmentally friendly cleaning products and most advanced equipment we are sure that you will have an impeccable house cleaning service.
The Montreal Cleaners specializes in house and domestic cleaning services in Montreal, Longueuil and Laval. Our company gained extensive experience in providing high quality house, condo and apartment regular or one-time off cleaning. Our aim with every residential cleaning is your satisfaction We provide home cleaning solutions that fit your schedule and budget. Whether you want daily, weekly or monthly service you will get reliable house cleaning services. We are available for any time you may need. All our services are backed up by the experience of our house maids. The detergents we use are safe for your family and the updated equiment provide quality and efficient cleaning solution. Before every cleaning we primarily run an on-site visit to identify your exact cleaning needs.
Either it's for a deep cleaning, moving in cleaning or moving out cleaning or on a regular basis, daily, weekly, biweekly or monthly basis or housemaids or common area cleaning for apartment buildings, regular shared places cleaning, end of tenancy moving in and moving out cleaning services, after construction cleaning services, commercial offices, Floor Stripping and Waxing, Hotel, Motel & Airbnb Cleaning, medical/dental facilities, restaurants, cpe / daycares cleaning, Healthcare, Dental and Medical Office Cleaning, fitness / gym cleaning, Apartment & Condo Building Cleaning  deep spring clean and spring cleaning services you are at the right place. Our house are highly trained to deliver excellent residential cleaning services throughout The Great Montreal.
Read More >>
Contact Us >>
Areas Covered
Pointe-aux-Trembles, Rivière des Prairies, Montréal-Nord, Anjou, St-Léonard, Montréal-Est Rosemont, Petite Patrie, St-Michel, Ahuntsic, Villeray, Plateau Mont-Royal, Outremont, Westmount, Ville Mont-Royal, Notre-Darne de Grace, Cartierville, Cote-St-Luc, Hampstead, St-Laurent, Verdun, Lasalle, Lachine, Roxboro, Dollard-des-Ormeaux, Pointe Claire, Dorval, lie Bizzard.
Laval, St-Francois, Duvernay, Vimont, Auteuil, Pont-Viau, Laval-des Rapides, Chomedey, Ste-Rose, Fabreville, Ste-Dorothée, Laval-Ouest, Terrebonne, Mascouche, La Plaine, 136s-Des Filions, Lorraine, Rosemère, Boisbhand, Ste-Thérèse, Blainville, Mirabel, St-Janvier, St-Jérôme, St-Antoine, Bellefeuille, Lafontaine, St-Eustache, Deux-Montagnes, Ste Marthe sur le lac.
Boucherville, Longueuil, Ste-Julie, St-Hubert, Beloeil, Charnbly, Brossard, St-Lambert, Greenfield Park, LaPrairie